I love the slow-cooker. Living in Arizona has pretty much made the slow-cooker my best friend since it is the one thing that really keeps the heat down in the house in the summer (which also helps keep the electricity bill down too).
The one thing about the slow-cooker that bothers me is that if you don't pick your recipes carefully, everything ends up coming out looking like a big pile of mush. Yuck! So when I noticed that there were actually two recipes for lasagna in my slow-cooker recipe book, I was VERY nervous to try one because it was difficult to believe that this: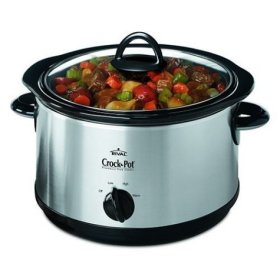 Could possibly make something that looks like this:
Of course, the presentation was not as lovely as this, but the taste was delicious. Sadly, I did not get a chance to take a photo before my husband and children devoured it while I was teaching piano lessons (which is the reason I needed to use the slow-cooker anyway). I think the presentation would be much nicer if it was covered with an extra helping of cheese as it was plated and then perhaps fresh basil or parsley but that's just an extra.
I tweaked the recipe that was in the book a lot but not the method so here's my recipe for slow-cooker lasagna.
Slow-Cooker Lasagna
for a 4-quart slow-cooker
One 8 oz. package of Lasagna noodles
1 lb. ground beef
1 onion, chopped
1 green pepper, chopped
2-4 cloves garlic, minced or crushed
1-2 4 oz. jars sliced canned mushrooms, drained
6 cups of tomato sauce (I used homemade I had frozen but you can used the cans, 8 oz. = 1 cup)
1 tsp. ground basil (or 1 Tbs. fresh)
1 tsp. thyme (or 1 Tbs. fresh)
1 tsp. oregano (or 1 Tbs. fresh)
1 tsp. salt
1/2 tsp. pepper
4 cups shredded mozzarella cheese
1 1/2 cups ricotta cheese (or you can substitute and use drained cottage cheese)
1/2 cup shredded parmesan cheese
Method:
In a large sauce pan, brown ground beef when almost browned drain, add the onions and green pepper and mushrooms cook until soft then add garlic for the last minute or two to avoid over-cooking. Add spices and stir, then add Tomatoes sauce allow to simmer and remove from heat.
In a separate bowl combine mozzarella, ricotta (or cottage cheese) and parmesan. Stir until combined.
Divide lasagna noodles into three equal piles.
Layer:
In the bottom of an ungreased slow-cooker, spoon 1/4 of the sauce on the bottom. Top with a layer of noodles. I broke each noodle in half and turned them to try to cover the circumference of the cooker. Top noodles with 1/3 of the cheese mixture and another layer of 1/4 of the sauce. Repeat layers two more times.
Cook in slow-cooker for 4-5 hours on LOW.
Because the noodles are layered this way, they don't taste under or over cooked but just right and the flavors of the cheese and sauce merry nicely because they are cooked together for such an extensive time. Enjoy!